Samenvatting van het artikel
As a result of how things are being reported, among other factors, a large proportion of Dutch citizens hugely overestimates their risk of getting infected. Based on a couple of simple assumptions, we calculate that of the next 8,500 people you will meet, 1 will infect you.
Lees volledig artikel: The small chance of being infected with Covid-19
Leestijd:
5
minuten
The small chance of being infected with Covid-19
What always strikes me about the experts in the Dutch media is that they always follow the same pattern, "We don't know, but…" . And then there comes another sentence, in which the average viewer/listener has to think how great the risk is of being infected.
On logical grounds, some of the dangers seems rather improbable. And then when I look for the empirical basis, it is nowhere to be found. Since the beginning of March more and more research is coming out about Covid-19, so we know better and better how Covid-19 is spreading.
But it strikes me, how little of these new findings the Dutch media get. Although that seems to change one baby step at the time.
That's why I'll give you a brief summary and a calculation.
While WHO/RIVM still explicitly state that there is a considerable risk that you can become infected by touching surfaces, it now turns out that that chance is (virtually) nil.  (So all that cleaning of those supermarket trolleys has made no sense at all).  Prof. Streeck reported this at the beginning of April based on his research in Heinsberg. Now the American CDC (the counterpart of our RIVM) also indicates that the chance is small.  My logical interpretation: if the spread of the virus through objects really were to occur regularly, it would be incomprehensible that patients' roommates at home would not be infected much more.
I've been saying for a long time that the chance of being infected outside is very small. (And draw the conclusion from that, that the infection is mainly -or even only- through the air). I did this on the basis of various studies from around the world, where time and again is concluded that contamination outdoors is virtually undetected. When I reported this via my blogs and via an interview in newspaper De Telegraaf, it was dismissed in the daily newscast Op1 as "an opinion". 
But it was based on the presentation of the virologic lab of Home Security in the US where they literally said "Move activities outside".  Until this headline yesterday in newspaper De Volkskrant: "Research: hardly any chance of contamination outside", after RIVM chief Van Dissel had said something in the Lower House about the smaller chance of contamination in the open air. He also stated:

"Research around the world has not shown that the chance of contamination outdoors is lower". No, the chance of being infected outdoors is empirically virtually zero!
A little prediction:
It won't be long before it is confirmed that the majority of infections are airborne, contrary to the WHO/RIVM claim that this hardly ever happens.
I get a lot of mails from people, who, because of all the reporting from March onwards, have become anxious about the chance of being infected themselves. And because of my blogs and interviews on the internet, they have become calmer, because the danger is much smaller than they thought. That's partly why I want to make the following sum to show how big (or better, how small) that chance is:
We have calculated that every hospital admission in the Netherlands represents almost 200 infected persons. In the meantime, the number of hospital admissions has dropped to about 10 per day. This is the RIVM's current graph.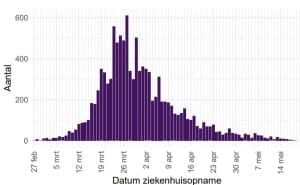 So if 10 hospital admissions are reported today, it would mean that about 10 days ago, 10 x 200 = 2,000 new infections took place.
Let's assume for a moment that there were 2,000 new infections every day for the past 10 days (and I think it's even less), what does that mean for the risk that those people infect you or me?
We know that it takes about 5 days before someone starts showing symptoms and can infect others. So every day there are 5 x 2,000 infected people who can infect someone else.
Reproduction factor
At the same time, we know that the reproduction factor is 1. We can also use that in this indicative calculation. Those 10,000 infected people will then on average infect 10,000 others.
Let's assume that someone who is infected meets on average 5 people in those 5 days. I think that's a low estimate. Some of them are sick at home and only meet a few people. But there are also a lot of people, who don't even know they are contagious and they might meet quite a few others.
So (and I know it's a weird way to put it like that) if you meet that infected person, then you have a 1 in 5 chance of being infected by that person.
Now we have all the ingredients to make the following calculation:
10,000 people a day who could infect others. And if you meet that person, you have a 1 in 5 chance that that person will infect you. So that gives the number 10,000/5 = 2,000.
The Netherlands has over 17 million inhabitants: 2,000 relates to 17 million is like 1 relate to 8,500. So that gives an indication of how small the chance is that you will be infected. To put it another way: of the 8,500 people you meet, 1 person will infect you.
I realize it may be a somewhat absurd way to calculate your chances of infection. Of course, it is also about what region you live in, what kind of work you do etc. But if you don't belong to the profession with a higher chance of being infected (and in England you even have overviews of the professions of the deceased) then your risk of being infected is much lower.
I think a lot of Dutch people – also because of the way of reporting – think that their chances of being infected are many times higher. (And how proportional are all the measures that are taken, such as setting up a 1.5 meter society, and the major consequences that this has on the economy and society).
I wonder when politics in The Hague, the media and the citizens in the Netherlands, will wake up and realize how much over-reaction has taken place and how much damage we have caused ourselves. (More than a month ago I wrote this blog that we committed hara-kiri).
Two points in conclusion:
The meat processing industry: It's always been said about the outbreaks in that industry that it's because people work so close together. But 3 weeks ago I already wrote this blog about this subject. Because it's significantly colder in those companies than in normal working environments, the conditions for aerosols to stay in the air for a long time are very favorable. That's why you see outbreaks in and around those factories (where sometimes more than 1,000 employees are infected) almost everywhere in the world.
When I wrote that, I was also approached by people who set up cooling and ventilation systems at those factories, who confirmed the content of my blog. But yes, if you only acknowledge that the contamination is through direct contact, then you don't recognize the great importance of ventilation in those factories and you don't take the right measures.
The mink farms:
I recently got an e-mail from someone who builds stables for years. He reported that the system of air ventilation (and temperature control) is very important to prevent the outbreak and spread of diseases. Because that happened quite often. He indicated that if they ensured that a lot of fresh outside air entered the barn, the chance of outbreaks of infectious diseases among the animals fell to almost zero. It wouldn't surprise me if in those mink farms hardly any fresh air comes in and those animals get infected easily. (And the people who walk through those stables as well, because of the aerosols in the air).
That information was also confirmed by a number of people active in horticulture in greenhouses. They also told me that allowing fresh air significantly reduced the risk of plant infections).
The small chance of being infected with Covid-19.